PORTFOLIO OF RECENT WORK
Kitchen. The client uses this mobile cart for food preparation, so we placed her most frequently used tools and appliances in this location. This saves time from searching for the right tool. Hanging the measuring cups makes it easy to grab the one she needs.
---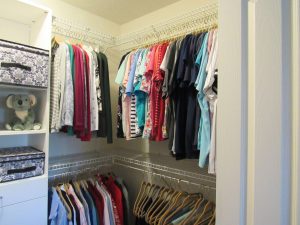 Closet. Being able to pull together an outfit quickly means finding what you're looking for. Organizing clothing by size, type, and color helps you do just that. No more wasting time getting dressed.
---
Garage. Getting the groceries in the house during a downpour shouldn't require you to get soaked and cold. The garage's primary purpose is to house the car, after all.